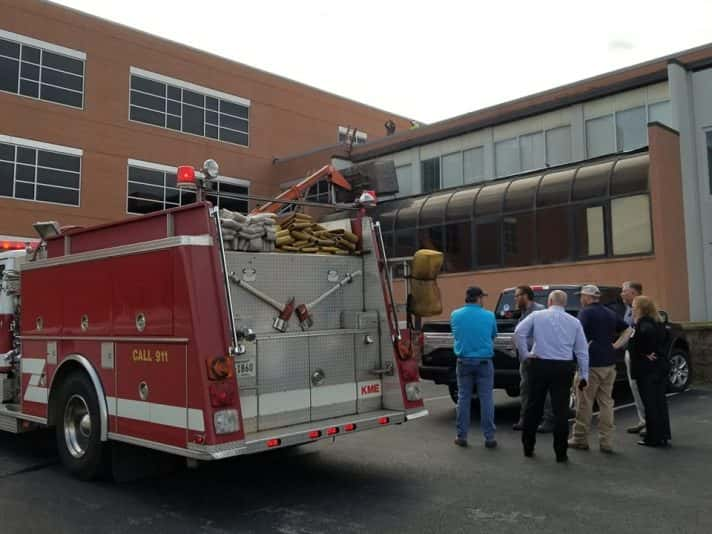 Paris, TN – Henry County Medical Center officials said quick action to a small fire on the roof at the hospital Tuesday afternoon resulted in no injuries and no damage to the building. The only damage was to a vehicle in the Physician Parking Lot located in the back of the hospital.
Hospital Chief Executive Officer Lisa Casteel said HCMC was undergoing some roof repairs at
the facility. The crew was using a torch on some roof materials and the materials became too
hot. To ensure there was no damage to the building or roof, the crew pushed the materials off
the roof onto the ground. With it being so dry, grass in the parking lot caught on fire from the
materials, she said.
Thankfully, staff and a physician, Dr. Ray Compton, responded quickly and effectively, putting the fire out immediately and containing the situation.
"We are so thankful for our staff and Dr. Compton for their quick thinking and action in the
situation," said Casteel. "We are also appreciative to the fire department for responding and
ensuring everything was okay with our facility and the area. The only damage reported is that a
car in the parking lot. We train for fires and we are so glad that everyone responded
appropriately to the situation and that there were no injuries, internal damage, or smoke
damage."
Plant Operations Director Rob Smith, will continue to monitor the situation and will ensure that
all appropriate follow ups and measures are completed related to this incident.
To learn more about Henry County Medical Center, go to our website at www.hcmc-tn.org.
Photo by Shannon McFarlin