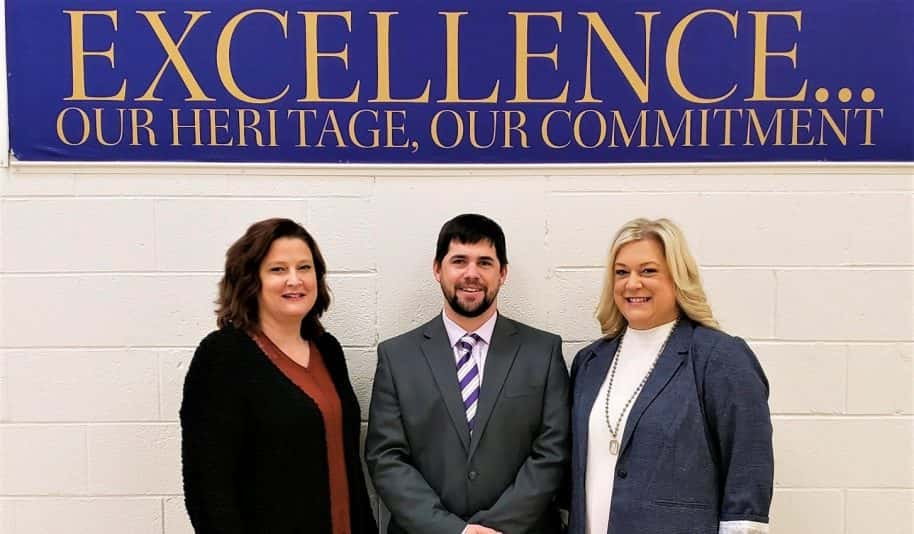 By Mike Hutchens, UC Schools Communications Director
Union City, Tenn.–They were judged the cream of a bumper crop of Union City School System educators: John Graham, Penne Guess and Rhonda Griffin have been picked as the 2019-20 Teachers of the Year in the Union City School System.
Principals at each of the three Union City schools selected the top teachers in their respective buildings, each using their own specific criteria.
Among those skills and qualities was leadership, professionalism, attitude, mentorship, and in some cases, attaining Level 5 teaching status.
All are first-time winners of the prestigious honor and each said they were humbled by the recognition and deflected much of the credit for their accomplishment to administration and students who have helped make UC Schools one of the best systems in Tennessee.
"These teachers have all established a welcoming classroom learning environment and have been great ambassadors for Union City Schools with their work ethic," UC Director of Teaching and Learning Rene Flood said of the recipients. "They each set high expectations for their students and always exhibit professionalism in all areas.
"We are very fortunate that they are a part of our UC school family and we're so proud to honor each of them."
Graham, a 2006 graduate of UC Schools, currently teaches Fundamentals of Construction, Carpentry I and II and also special physical education activities for CDC students at Union City High School. A point of emphasis he's had lately is exposing his students to the opportunities in the skilled labor industry.
Graham started his UC classroom tenure in 2012 at the middle school, teaching wellness and keyboarding, and is considered a "swiss army knife of teachers," by UCHS Principal Jacob Cross.
"I ask him to fill a variety of roles within the high school … Everything from working with our CDC students in physical education, to teaching carpentry classes, to coaching, to driving a bus. He does a little of everything.
"No matter what is asked of him, he always strives to make whatever program he is working with the best it can be."
Like his honored cohorts, Guess and Griffin, Graham spoking glowingly of the environment, his workmates and the administration in the Union City system.
"What makes me so proud to receive this honor is that there are so many outstanding educators that I work beside every day," he said. "I enjoy going to work with professionals that tirelessly strive to provide a great educational experience for all students.
"And it is such an advantage to have administrators like ours who support teachers' efforts to achieve positive outcomes for students."
Mrs. Guess is in her fifth year of teaching at UC Middle School after spending 20 years in the classroom at Ridgemont and Lake Road.
She currently teaches sixth-grade social studies at UCMS, but has also been a sixth-grade ELA (English Language Arts) instructor.
"I made the decision to step out of my comfort zone five years ago when I was presented with an exciting opportunity to come work for Union City Schools," she said. "Any time you begin a new chapter of your career, it can be a scary time.
"But making that move caused me to become an even better version of myself professionally. I have been incredibly fortunate to be encouraged and surrounded by excellent administrators and co-workers who help me strive to be the best I can be for myself, my students, and my community.
"The standards of excellence are so high in this school system and it encourages me daily to do my best.  Working at Union City Schools has been a blessing in my life both personally and professionally."
UC Middle School Principal Lance Morgan said Guess was certainly a worthy recipient of the TOY honor from his halls.
"Mrs. Guess embodies all the characteristics of a great teacher," the lead UCMS administrator claimed. "On top of consistently having great scores on state mandated tests, she has a very evident concern for all students.
"The compassion she has for students and passion for social studies is second to none."
Mrs. Griffin is in the midst of her 14th year at UCES, having started there in 2006. She is a third grade math and science teacher and also teaches third grade advanced math.
She began her tenure at Union City Elementary in the fourth grade classroom before moving to third grade in 2013.
"I am both honored and humbled by this award," she said. "Teaching at Union City Elementary School is so rewarding.  I'm so thankful to everyone here – from my fellow teachers, to the administration, to the students — for continuing to help me to grow as a teacher.
"Union City Schools are amazing!"
UCES Principal David Byars had high words of praise for Griffin.
"Mrs. Griffin comes in the door every day with a plan to help her students and everyone else around her get better for that day," he said. "She's tireless. She's motivated. She loves her students, is a tremendous co-worker to the rest of our faculty and is willing to do whatever we need and ask of her to make Union City Elementary School a great part of the educational experience.
"She serves as a great example to many of her co-workers and is very deserving of this honor."
The three teachers will be featured on the school system's Reelfoot Avenue billboard to celebrate their accomplishment and will also be recognized at the February UC School Board meeting.