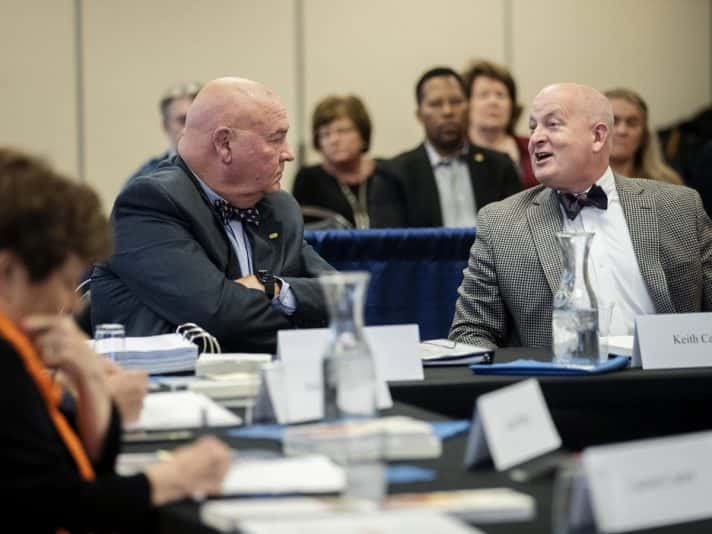 The University of Tennessee at Martin Advisory Board met Jan. 10 to hear presentations from university officials on student affairs, student crisis response, UT Promise applications and student transfer procedures.
Dr. Andy Lewter, vice chancellor for student affairs, updated the board on activities in the various student affairs units, including housing, student life and multicultural affairs, campus recreation, disability and testing services, career planning and development, and student conduct. The highlight of Lewter's presentation was a discussion of the UT Martin Care Team and its crisis response procedures. A staff panel consisting of John Abel, assistant vice chancellor for student affairs; Shannon Perry, student conduct officer; Ryan Martin, director of housing; and Carly Jo Archie, crisis case manager, explained the process.
Launched in fall 2017, care.utm.edu provides an online reporting outlet for all types of concerns regarding student health, safety and wellbeing. A "Hawk Alert" can be submitted 24/7 by any individual – student, staff, faculty, parent, employer or community member – and immediately alerts the six-person crisis response team, which responds within minutes.
"Depending on what has happened, if it's a student who is in severe distress and needs a welfare check, we'll get public safety out there," said Perry. "If a student needs to go to the hospital and have a crisis evaluation done, we will meet them at the hospital."
In addition to the dedicated response team, members of the UT Martin residence life staff are always on call to assist when an alert arrives for an on-campus student.
"We are blessed to have an amazing group of student leaders, student staff and professional staff (in the residence halls). I've got somebody on call 24/7 – a professional staff and a student member. We have flexibility to send somebody out to do welfare checks immediately, so when I say we're responding within minutes of the alert coming in, we really are," said Martin. "All of our (residence life) staff is mental health first aid certified. … We are able to stay with (the student) from the time they are in crisis until after they get back to follow up with them."
Martin says they receive hawk alerts throughout the semester for situations ranging from a student missing class, academic concerns, and mild illnesses all the way to serious mental health crisis and self-harm. However, since the creation of the crisis response team, students are being helped far faster than in previous years.
"We are reaching our students before they reach the pinnacle of crisis," said Perry, who noted a 50 percent reduction in the number of students admitted to the hospital for suicide attempts in fall 2019 as compared to previous years. While online referrals have jumped from 45 in fall 2017, when the website was launched, to 224 in fall 2019, Perry says this increase is due to greater education about the signs of mental health crisis and the availability of the alert system.
"It's not just for mental health concerns," she said. "We've had some students who were involved in a very bad (car) accident, and one was airlifted to Memphis. They were international, and the international director was in Japan. So, there was a whole coordination that had to be done, and the crisis response team was able to do that in a meaningful way."
Photo: Advisory Board Chair Art Sparks, left, speaking with Chancellor Dr. Keith Carver during the meeting. (UTM photo).