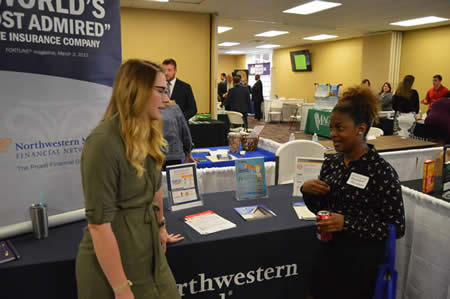 Bethel University's Office of Career Services will hold its annual Career Fair for both its students and alumni on Thursday, March 15 from 10:30 a.m. until 1 p.m.  in the Board Room of the Vera Low Center for Student Enrichment.
Some of the companies in attendance will include: Benton County School System; Carey Counseling Center; Centennial Bank; Core Civic Whiteville Correctional Facility and Hardeman County Correctional Facility; Dot Foods; Fast Pace Urgent Care Clinic; Henry County Medical Center; Henry County School System; Methodist LeBonheur Healthcare Systems; Natchez Trace Youth Academy; National Motor Club of America; Navy Officer Programs; Northwestern Mutual; Pepsi Mid America; REAL Hope Youth Center; Regions; Sherwin Williams; Tennessee Army National Guard; Tennessee Highway Patrol; Transamerica Agency Network; US Probation Office; US Secret Service; WRAP; and Youth Villages. A few spots are still available for interested employers.
Those attending are asked to dress in professional attire and to bring multiple copies of their resumes. For more information, contact Rachael French Brooks at brooksra@bethelu.edu or at 731-352-4246.