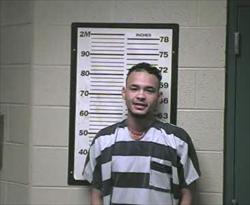 By Shannon McFarlin WENK/WTPR News Director
Paris, Tenn.—A Henry County man was treated for gunshot wounds and the suspect is in jail in Carroll County following a shooting at a Paris shopping center Sunday night.
Axel Javier Rivera was apprehended later by officers with the 24th Judicial Task Force at a location in Carroll County.
Paris Police Captain Ricky Watson said the incident began when officers responded to a shooting call around 9 p.m. at Walmart. The caller said shots were being fired between two vehicles and that both vehicles had left the scene.
City officers searched the area and were notified of a possible shooting victim that had come to the Henry County Medical Center emergency room for treatment.
The investigation lead officers to a Dresden address, where they located one of the cars involved in the shooting. The vehicle belonging to the victim also was located.
Watson said while the investigation continued in Dresden, it was discovered that the shooting suspect, Axel Javier Rivera, had been located in Carroll County. Paris officers then contacted the officers with the 24th Judicial Task Force and Rivera was apprehended.
Watson said the investigation is ongoing and several more charges are pending and more arrests are possible.
The shooting victim was treated and released from the emergency room, Watson said.