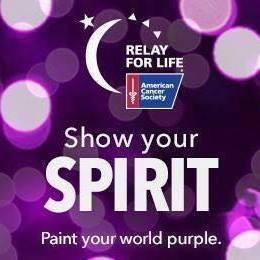 By Shannon McFarlin WENK/WTPR News Director
Paris, Tenn.—The annual Henry County Relay for Life will take place all night Friday night at the Henry County Fairgrounds.
Gates are open to the public at 4 p.m., with the Opening Ceremonies set for 6 p.m. The opening ceremonies will include an invocation by Brother Randy Stephens, survivors and caregivers' laps, team recognition, and the releasing of purple balloons.
Luminarias will be lit up at 9 p.m., followed by the Remember Ceremony and "Empty Chair" presentation. There will be plenty of music and activities through the night, with live music to be provided by Ervin and Andrea Dutton, D.J. Landon and the Longshot Band. Activities include a scavenger hunt, dance party, lip synching, petting zoo, and inflatables.
Sixteen teams will be providing a wide variety of good food along the midway all night. Closing ceremonies will be held at midnight.