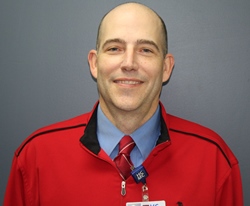 Paris, Tenn.– Henry County Medical Center has announced the appointment of Brett Marshall, to the position of Director of Human Resources.  Marshall joined the team at HCMC in mid April 2017.
Marshall comes to Paris from Yakima Regional Medical in Yakima, Washington, where he served as the Human Resources Director there, too.  He also served as the Director of Human Resources for Cypress Health Care in Nashville, TN as well as Lake Area Medical Center, Lake Charles, Louisiana.
Originally from St. Louis, MO, Marshall received his undergraduate degree from St. Louis University and a master's in Health Administration from Grand Canyon University.  He has been in healthcare for 18 years and most enjoys being able to serve the communities he lives in.
Marshall is married to Alison, and has three children:  Ridgley (age 7), Rowan (age 12) and Ransom (age 13).
"I am very excited about the opportunity to serve our community," Marshall said.  "I want the people of Paris, TN and the region to understand that we are here to serve them and they are our ultimate customers."
Hospital Administrator Tom Gee said, "We are lucky to have someone of Brett's experience and expertise to help us move our organization forward during changing times in healthcare. We expect that he will help lead or workforce to bigger and better accomplishments."