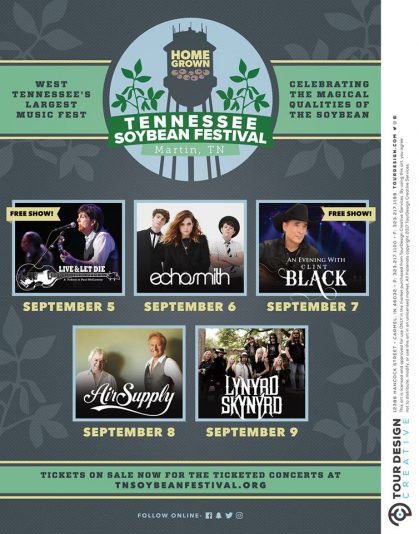 Martin, Tenn.—The Tennessee Soybean Festival once again will have a strong musical lineup this year, with top acts—including Lynyrd Skynyrd, Clint Black and Air Supply—set to take the stage.
The Soybean Festival will be held from September 2-10 in Martin and is billed as "West Tennessee's Largest Music Festival".
A Tribute to Paul McCartney called "Live and Let Die" will be presented for free September 5, with Echosmith performing on September 6.
Country Legend Clint Black will present a free performance on September 7, with Air Supply set to perform September 8.
Lynyrd Skynyrd will perform September 9.
Tickets are on sale now for the ticketed concerts at www.TNsoybeanfestival.org.  Ticket prices are listed on the website.