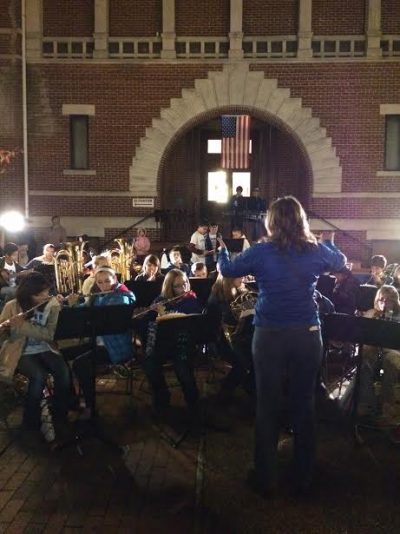 Paris, Tenn.—In conjunction with this weekend's Christmas open houses in Paris, the Christmas tree on the courthouse lawn will be illuminated for the season Friday night.
The annual Love Lights a Tree ceremony sponsored by the Relay for Life will begin at 6 p.m. Friday on the courthouse lawn. Joyce Bass will speak and there will be a reading of names of those whose lives have been touched by cancer.
According to Relay Publicity Chair Dana Allen, once the names are read the Inman Middle School Band will play songs of the season.
Lights on the tree will be sold until the beginning of the ceremony. Contact Joyce Bass at 707-0506 to purchase a light in honor or in memory of your loved ones touched by cancer and for more information.
Businesses in Paris will be holding open houses with extended hours Friday, Saturday and Sunday.
Photo: The Inman band performs at last year's Love Lights A Tree Ceremony. (Shannon McFarlin photo).