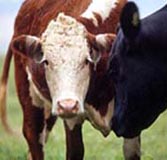 The Henry County UT Extension and Henry County Livestock Association will be hosting a Beef Cattle Field Day on Saturday, November 11, 2017. The field day offers producers young and old multiple opportunities to gain and exhibit their farm knowledge. There is no cost to attend and lunch will be provided.
The field day will begin a 10:00 am with educational programs that will cover Genetics, Reproduction, Environmental Stewardship through NRCS, and Pasture Renovation/Weed Management. Field day presentations will also count as part of the 2017 Henry County Area Advanced Master Beef Producer Program class requirements.
During the lunch break and following the presentations, producers and visitors can visit vendor booths and participate in the Pen of 3 Stocker Calf Show (Youth & Adult), Judging Contest, and Skillathon. Door prizes will also be presented during field day activities. All November 11th field day activities and events will be conducted at 8639 HWY 641 South, Paris, Tennessee.
For more information please contact the Henry County UT Extension office at 731-642-2941. Through its mission of research, teaching and extension, the University of Tennessee Institute of Agriculture touches lives and provides Real. Life. Solutions. Ag.tennessee.edu