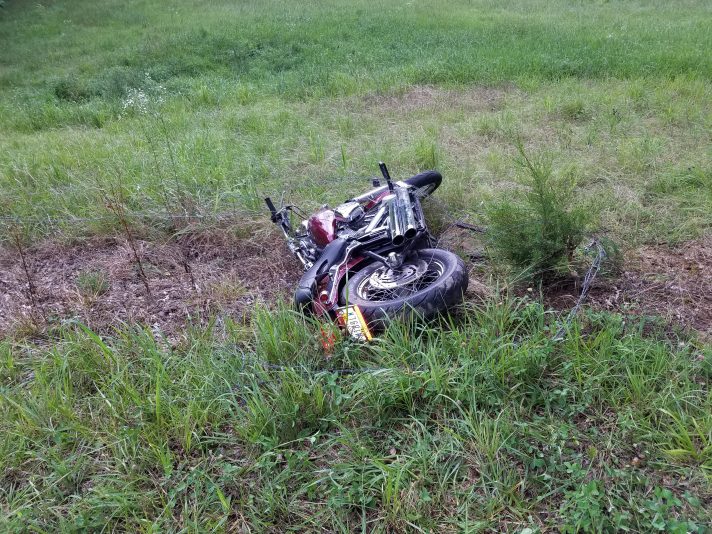 Buchanan, Tenn.—A unidentified driver was injured when the motorcycle he was driving smashed into a barbed wire fence near the state line at Hwy. 119 Friday evening.
The Paris Landing Volunteer Fire Department was dispatched along with Henry County EMS, sheriff's deputies, and the Tennessee Highway Patrol around 5 p.m. Friday. The accident occurred just across the state line on Billy Branch Road in Calloway County.
Paris Landing Fire Chief Reggie Coles said, "A motorcycle appeared to have left the road and impacted a barb wire fence.  The unidentified driver was transported to Henry County Medical Center with moderate to severe injuries, his condition is unknown."
Calloway County Fire Rescue and Calloway County Sheriff's officers also responded to the scene.
The Paris Landing Fire Department also was dispatched early Friday morning, at 4:45 am  to 75 Kirk's Trading Post Road in Buchanan after a passerby called 911 to report a vehicle on fire in a driveway near a residence.
Arriving units found a 2001 Nissan Xterra with the engine compartment ablaze.  The owner Mrs. Brandy Goforth was attempting to pour water on the fire, Coles said. The engine compartment was destroyed and the vehicle was deemed a total loss.  The owner said the vehicle had been parked in her driveway since 6 pm the previous evening.  Cause of the fire is under investigation.
Photo by Reggie Coles