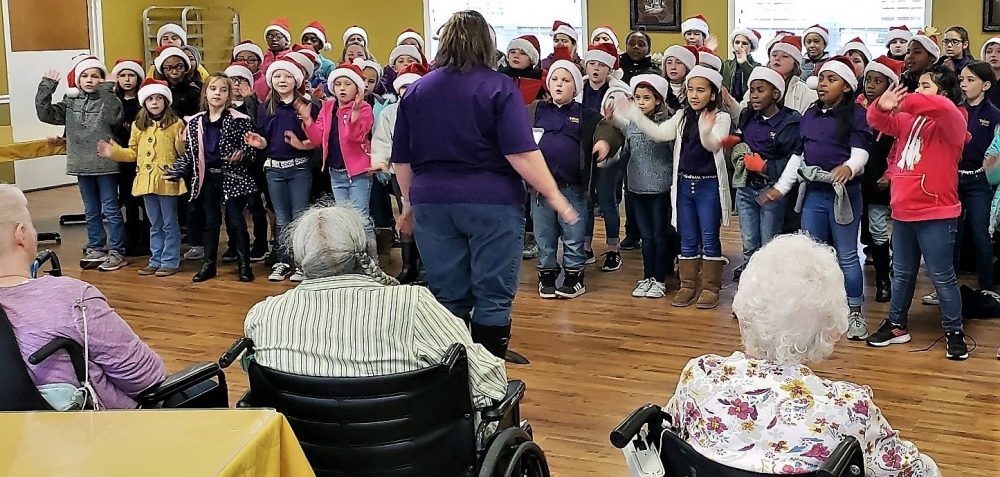 By Mike Hutchens, UC Schools Communications Director
Union City, Tenn.–'Tis the season. The Voices of Union City Elementary School have been busy caroling at numerous venues. The group began the day performing at the Obion County Nursing Home, where some residents were presented poinsettias, thanks to Soleil Garden Center, and then sang at the Etheridge House in Union City.
Directed by Kathleen Parker, they presented Christmas music at night as part of Union City Schools' participation in the annual Chimes for Charity program.
The Voices, who've already showcased their talents in several impromptu settings in and about town, will continue to tour and entertain over the next several days and nights.
They performed Wednesday for residents at Magnolia Place and The Waters, and will take their regular place Thursday night at the courthouse for the annual community Christmas tree Lighting.
Performances Friday at the Union City Rotary Club (noon) and the Obion County Public Library Christmas open house (6 p.m.) close out this week.
The group will sing again Dec. 12 and 13, first at Christmas Breakfast Before School, then twice at the annual Christmas Concert at UCES before dismissing for the holiday break on Dec. 14.