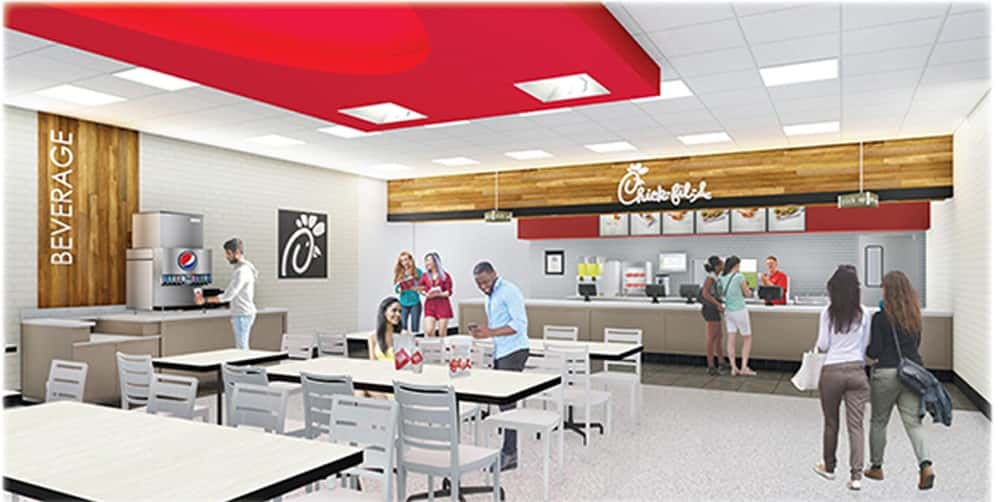 MURRAY, Ky. — Chick-fil-A will debut on the Murray State University campus in the fall of 2019. The announcement was made by Sodexo, Murray State University's recently named food services provider.
"We are excited that we were able to respond quickly to the interests of Murray State University," said Stephen Gibson, director of business development, Sodexo Universities. "Our plan is to continue to create a customized dining experience in partnership with the University and we hope the new Chick-fil-A will be welcoming news for the University and community."
Chick-fil-A will occupy a prominent space within the Curris Center, which serves as the student hub on campus and is often a first destination for prospective students who are visiting Murray State.
"This announcement is exciting news for Murray State University," said Murray State Interim President Bob Jackson. "Chick-fil-A is a national brand that will bring a great deal of satisfaction to our campus community and to future students. Their presence will add tremendously to our existing dining options in order to best serve our University."
Sodexo's contract with Murray State officially began on December 15th, 2018. After a comprehensive review of vendor proposals by a committee representing University constituents, Sodexo was selected to provide dining services to the Murray State campus community. The contract was reviewed and approved by the University's Board of Regents' subcommittee.
Sodexo will continue to work closely with University leadership to establish a student-led dining advisory board, increased support of recruitment and retention efforts and to deliver a Kentucky Proud custom culinary experience.
In addition to immediately expanding the variety of fare, Sodexo will offer its award-winning Simple Servings concept, which offers safe, healthy and delicious options that are free from common allergens including peanuts, tree nuts, shellfish, wheat, soy, milk products and eggs. All options are also free from gluten-containing ingredients. Simple Servings staff members are carefully trained to avoid allergen and gluten cross-contact and encouraged to become acquainted with students with dietary restrictions, and work to ensure they are not only safe, but socially included in the dining experience.
Sodexo also has plans to work closely with the University's farm and local business community to purchase local, seasonal and sustainably grown products.
On every campus where Sodexo has a presence, it is committed to helping those in need, reducing waste and conserving energy. Sodexo will work with and support Murray State's food waste and food recovery initiatives. Sodexo will also explore ways to transform unused food from dining halls, grocery stores, restaurants and farmers markets into meals for people experiencing hunger.
About Chick-fil-A, Inc.: Atlanta-based Chick-fil-A, Inc. is a family owned and privately held restaurant company founded in 1967 by S. Truett Cathy. Devoted to serving the local communities in which its franchised restaurants operate, and known for its original chicken sandwich, Chick-fil-A serves freshly prepared food in more than 2,300 restaurants in 47 states and Washington, D.C.