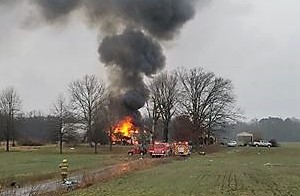 Gleason, Tennessee—A home in rural Gleason was destroyed by fire Sunday afternoon, but thankfully there are no reports of injuries.
The Gleason Volunteer Fire Department was called to 985 Page Road and found the residence fully involved on arrival around 2 p.m.
A call for mutual aid was dispatched, with tankers from the McKenzie Fire Department and Ore Springs-Como also at the scene.
Further details were unavailable Monday morning; a spokesperson at the Gleason Fire Department said the report has not been completed.