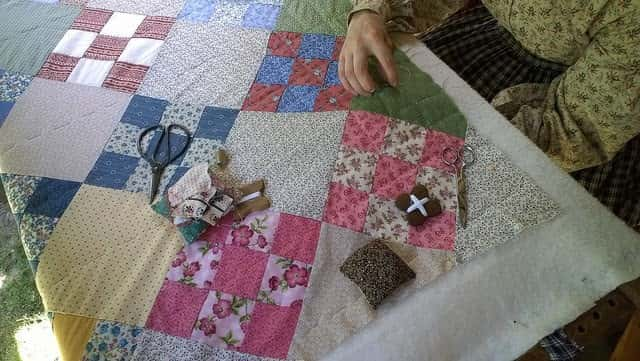 The Friends of Land Between the Lakes invite everyone to enjoy "Quilts, Coverlets and Comforters: Keeping Warm in the 1850s" at the Homeplace 1850s Working Farm, 4512 The Trace, Dover, Tennessee 37058, inside Land Between the Lakes National Recreation Area, on Saturday and Sunday, September 14 and 15, 2019, from 10 am – 3 pm. Programs included with general admission; ages 13 and up $5, ages 5-12 $3, and ages 4 and under free.
Discover the rich textile traditions of an 1850 farm as you explore the bed coverings that kept a farm family warm at night. From quilting bees, weaving looms and knitting needles, farm women made a wide variety of bed coverings with homegrown fibers.
Step back in time and join the quilting bee and learn the difference between a quilt, coverlet and comforter. Our treasured 1850 era and reproduced quilts and coverlets will be on display in the parlor. Children can learn to weave a 'paper' blanket and the whole family can explore the fifteen historic buildings and meet the heritage breed farm animals.
Bring the whole family and enjoy a weekend of quilting fun on the farm.
Not interested in quilting? Join the men as they demonstrate the trades of the time.
Programming includes:
Trapping Dinner – 10 am – 12 pm – From snares to rabbit boxes, come learn about the different methods for getting wild game in the 1850s.
Forging the Past: A Farm Blacksmith Shop – 1 – 3 pm – A blacksmith shop on the farm in 1850 provided the farmer with a means to make and repair his farming tools.
Fourth grade students can go to 
https://everykidinapark.gov/
 to receive a free Every Kid in a Park pass, and get their family in for free. For more information, call the Homeplace at 931.232.6457.