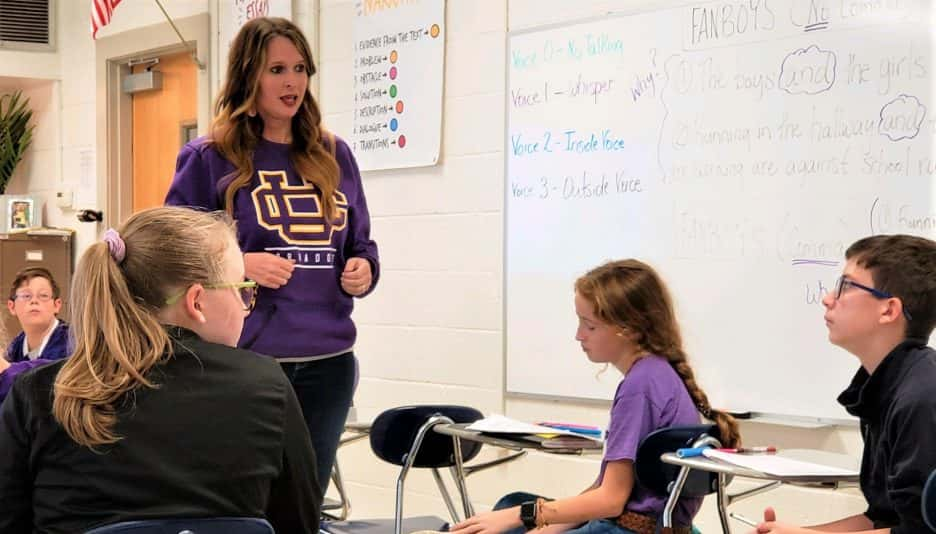 By Mike Hutchens, UC Schools Communications Director
Union City, Tenn.–Count Union City Middle School teacher Allison Kail among those impressed with students in her Advanced 6th-grade writing class.
Focused both on the "little things" and the "process," while finishing up their one-month unit on narrative writing, students presented their papers after multiple revisions recently.
Students learned the specific elements that make up a good narrative with particular discussion on their favorite movies and novels and the attention to detail those writers used.
Special attention was paid to the role of good dialogue, description, obstacles that kept their main character(s)from achieving their goal and using transitions wisely.
Students worked in collaborative groups to brainstorm and plan before creating their final product on their own and then presenting the finished products to the class.
"I'm very proud of the progress the students have made the past month. Most importantly, I have enjoyed seeing the pride they took in their writing and the desire they have had to make all their pieces fit perfectly," Kail said.
Nathan Finch was especially creative when tackling an end-of-novel project in Abby Cruce's 6th-grade Advanced ELA class.
Finch wrote and sang his own rap song, re-telling the events from the novel "I Am Malala" while tying it to the social problems faced in today's society.
"I Am Malala" is a story that showcases the importance of a young Pakistan girl who was shot by the Taliban for standing up for education rights for girls. She later recovered to win the Nobel Peace Prize and continues to fight for equal opportunity for people — especially girls.
Students were given five project choices to showcase the importance of Malala.
Some chose a 3D scene to depict an important scene from the book and explained why, while providing quotes from the book. Others chose a collage of important words and quotes and were asked to explain the importance of the words and quotes of their choosing.
Still others chose to give a speech about a social issue after watching Malala's speech to the United Nations.
"The purpose of this project was for the students to reflect on the novel and reveal their understanding in an original, but supported way," Cruce said.
"This project provided an opportunity for students to make a deep connection with the text and provide an alternate insight that connected with themselves."